South Korea, unlike many countries, has a plethora of apps developed for their country specifically, and some of them are essential to have when going around.
Especially if you're staying in South Korea for a longer period of time, you need to get the apps listed in this guide, as they'll make life in South Korea much more convenient.
Recommended Read: Complete Guide on Visiting Restaurants in South Korea
Other guides on this topic will say there are more than 15 essential apps to have when visiting South Korea, but most of them you will never end up using in reality.
Here are the only apps that you'll actually find convenient and use when traveling to South Korea:
Naver Maps & Kakao Maps
Papago
KakaoTalk
Kakao T
MangoPlate
Korean bank account app (Optional)
Trazy (Optional)
These app recommendations are based on my own experience traveling to South Korea for more than 6 months in total. I personally used all of the apps listed above, and they made my life in South Korea easier and more convenient. You can find more information on each one below.
---
Table of contents
---
What apps to get when visiting South Korea
There are several apps that I recommend that you get when visiting South Korea, as they'll make your time in the country easier and more convenient.
Some of the apps in this list are only useful in certain situations, so they might not be for you. I will explain when and for who each app is relevant if I don't believe they are for everyone.
1. Naver Maps & Kakao Maps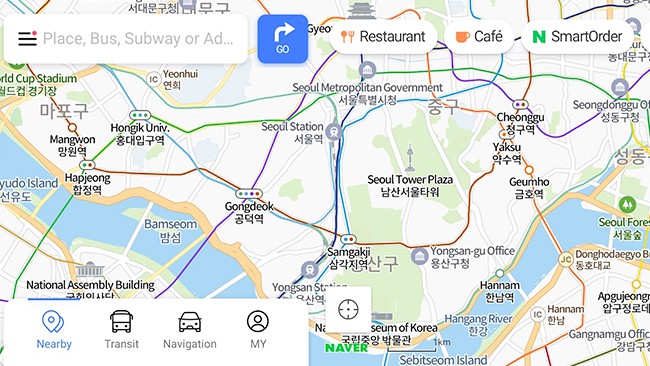 When you're visiting South Korea, be it Seoul, Busan, or another city, you're absolutely going to be visiting several locations around the city, which means you need to find your way around.
The easiest way to get around in South Korea is to follow the instructions in one of the two most popular Korean navigation apps – Naver Maps & Kakao Maps.
While either of these apps can do the job themselves, sometimes it's nice to have both, as they function slightly differently.
Both of these apps are Korean apps made for South Korea specifically, which means they have all the updated maps and information, unlike Google Maps, which does not work well in the country.
Naver Maps & Kakao Maps both allow you to find the route between any two locations with both public transportation, walking, cycling, and driving. You can also find other information on the app, like the locations of specific stores and restaurants.
2. Papago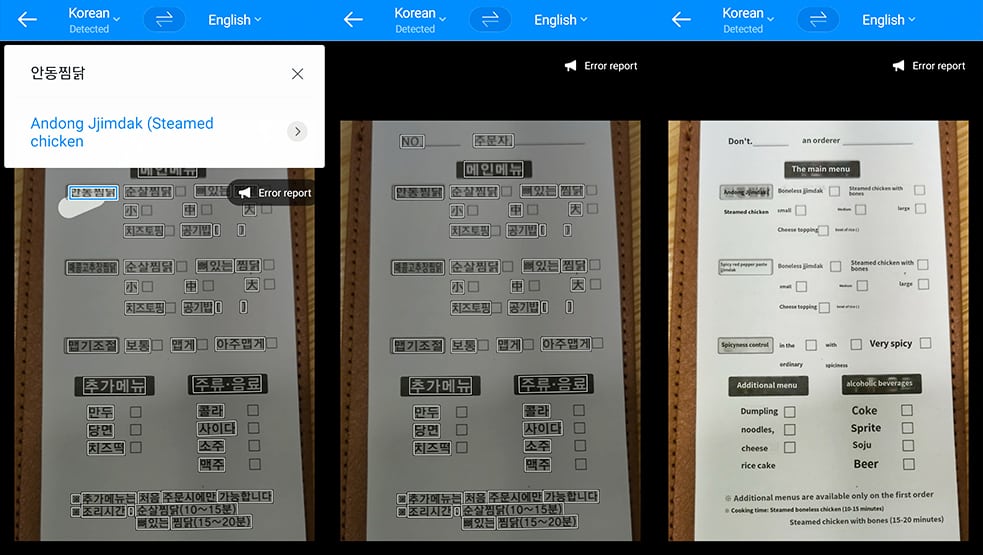 While many things are translated to English in South Korea to make it easy for non-Korean-speaking people to navigate around, not everything is also written in English.
Furthermore, while many Korean people can speak some English, not all can, making it difficult to communicate with just anyone on the street or any employee.
In many cases, the best option for you is to use a translation app to translate Korean writing yourself instead of asking an employee what something means or how to do something in English.
Many restaurants, for example, only have their menu available in Korean letters, which is where a translation app like Papago comes in handy.
The Papago app is a translation app that works with several countries, but as it's developed in South Korea, its focus is the translation between Korean and English.
With the Papago app, you can both type in what you wish to translate, but more useful is the feature to scan an image or screenshot for Korean letters and translate it into English. You can either swipe specific Korean letters to translate or translate all text in the selected image at once, as shown in the screenshot above.
Using the image scan feature, you can easily understand what a sign says, an instruction, or what a menu has to offer.
While Google Translate can also be used, Papago is more accurate in its translation between Korean and English, so I recommend you use that instead of Google Translate.
3. KakaoTalk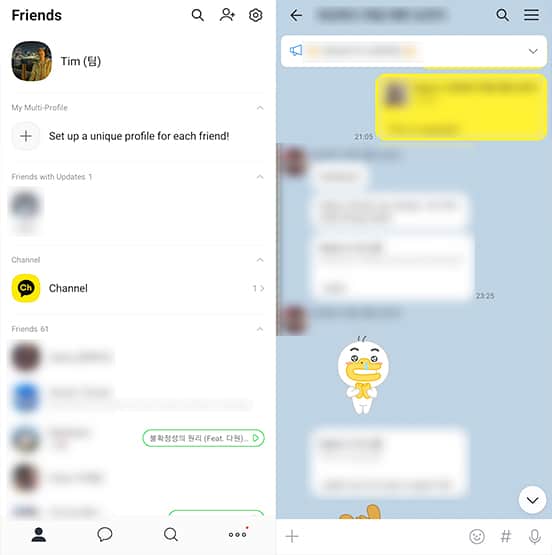 KakaoTalk is by far the most popular communication app in South Korea, and almost all communication in the country is done through it.
If you're staying in the country for a longer period of time, this is the first app that you need to get.
When you need to communicate with people or groups that you meet in South Korea, you can almost be certain that it's going to be through KakaoTalk.
From my experience in South Korea, all the Korean people that I became friends with and communicated with were in KakaoTalk, including group chats and voice calls.
Quickly after getting used to life in South Korea, the other exchange students that I also communicated with and I also started using KakaoTalk to communicate with each other, even though we use other communication apps in our home country.
In case you're visiting South Korea for a vacation of around a week or so, you might not need KakaoTalk. You only really need it to communicate with Koreans or other foreigners in South Korea, so if you plan on just staying and hanging out with your friends and family for the duration of your trip, there isn't much need for it.
4. Kakao T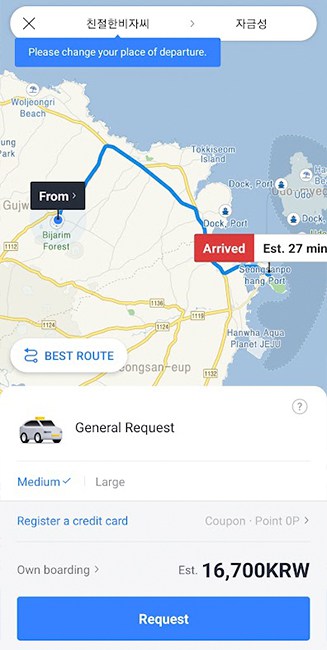 There is no easier way to order a taxi to your location in South Korea than using the Kakao T app.
With Kakao T, you can choose the taxi journey before you order the taxi, making sure there is no confusion as to where you are going. If you do not use Kakao T, some taxi drivers might have a hard time understanding where you wish to go.
Even if you do not know the exact name or cannot find a specific location by typing in its location, you can just use choose the option to select a location on the map you wish to go to if you know approximately where your destination is.
Make sure to check out our complete guide on how to order a taxi as a foreigner in South Korea for a step-by-step guide on how to use the Kakao T app.
If you are not planning on taking any taxis at all, but only public transportation, then this app will not be relevant for you. However, in case you might change your mind later, it's nice to have this app as a backup.
5. MangoPlate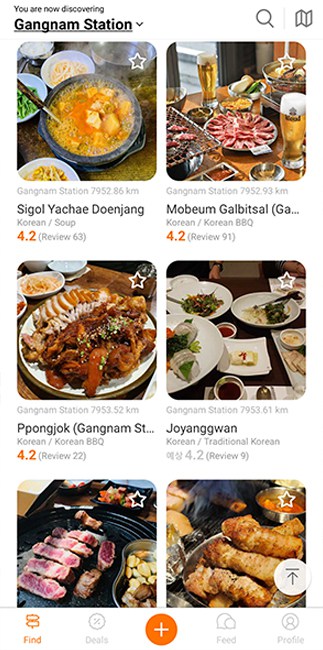 South Korea is known for its amazing food, so you'll definitely want to go around and experience their cuisine while in the country.
There is a lot of different Korean food to try, and there are tons of restaurants everywhere you go.
Therefore, MangoPlate, the, in my opinion, best app for finding restaurants in South Korea, comes in handy.
With the MangoPlate app, you can browse restaurants, cafés, and bars based on the type of food they serve, distance, reviews, etc., but you can also search for specific types of food in case you are looking for a specific type of dish.
You can find all the information you need on the menu, prices, and opening times of a restaurant in the app. And, as MangoPlate is widely used in South Korea, almost all restaurants are listed on there.
Both the navigation apps Naver Maps and Kakao Maps also list restaurants, cafés, and bars in their apps, but they do not list as much information, and it isn't as easy to browse restaurants and find specific types of food on them compared to MangoPlate.
6. Korean banking app (Optional)
Having a Korean banking app is only relevant for you if you are staying in South Korea for a longer period of time and have opened a Korean banking account.
The reason why it is convenient to have a banking app for your Korean bank account is so you can quickly see your current account balance.
I opened a Korean bank account when I was an exchange student in the country, and it was nice not having to go to an ATM to see how much money I had left in my account as I could just check the app on my phone.
If you are working in South Korea, then having a bank account app will be even more convenient. However, as I didn't, I only used the app to check my current balance.
7. Trazy (Optional)
If you're looking for things to experience in South Korea, Trazy can be a great place to get inspiration.
Trazy is a platform that sells tickets to various tourist attractions, local experiences, services, and even things like Sim cards.
You can use the app (or website) to get ideas of things to do and see in the city you're in, but you don't always need to purchase a ticket through their site, though it sometimes can be very convenient to do so.
I personally used the website both to easily get a sim card and to find inspiration for things to see and experience in Seoul.
If you've already planned out your entire trip to South Korea or prefer other sources to find inspiration for what to do and see, then this app won't be very relevant for you.
Food delivery app
You might have expected to see a food delivery app on this list, as South Korea is not only known for its cuisine but also the fact that you can get just about any food delivered to you.
There are several food delivery apps in South Korea, which are made specifically for South Korea, but most are difficult to use as a foreigner in the country.
If you wish to order delivery food online in South Korea as a foreigner, I recommend using the web version of Yogiyo instead. Check out our complete guide on how to order takeaway food online in South Korea here.
---
Those are all the apps that I recommend you get when you travel to South Korea!
Have any input or suggestions for this guide? Let us know in the comment section below.