When you're visiting South Korea, having a Korean sim card on your phone is essential, especially if you're staying in the country for a longer time. Having data everywhere makes it so much more convenient to travel around.
Compared to many other Asian countries, acquiring a sim card in South Korea as a foreigner isn't as easy nor as cheap.
Recommended Read: How to Get a Travel Card For Public Transportation in Seoul
There are, however, different ways to get a Korean sim card as a foreigner with relative ease. I have acquired Korean sim cards both by ordering before traveling to the country and while I was in the country.
The easiest way to get a Korean sim card is to order it online before you travel to South Korea and pick it up at Incheon airport. You can order it on the Korea Sim website. I have used this website twice myself.
If you're already in South Korea and need a new Korean sim card, I recommend using the service Trazy, which has fully English options for purchasing sim cards in South Korea. I personally used this order, which has pick-up in Myeongdong in Seoul. You can see their other options here. They also have a delivery option if you don't stay near any pick-up location.
---
Table of contents
---
How to order a Korean sim card before arriving in South Korea
Ordering a Korean sim card online before your departure and picking it up at Incheon Airport is the easiest way to get one.
You can order a Korean sim card on the Korea Sim website. I have personally used this website twice to order and pick up a sim card at the airport after arrival and haven't faced any issues with it.
They sell different types of sim cards, as well as a Wifi Egg, which is a portable Wifi Router.
I have personally both purchased their Gold and Blue Plus sim cards.
The Blue Plus sim card is a regular sim card that enables you to make calls, receive calls, text, and use data at an unlimited rate for the duration of the card.
The Gold sim card works the same way as the Blue Plus, except that it cannot make calls, only receive them. You do, however, in most cases, not need to make calls, as you have unlimited data, which means you can call through communication apps like Messenger or the Korean KakaoTalk.
When I used the Gold sim card for 30 days, I had no problems not being able to make calls, as everyone in Korea has KakaoTalk and primarily uses that for communication, including calls.
Where you have to pick up the sim card you order can vary, so be sure to check the details in your order email. The last time I was in South Korea and bought the Gold sim card, I had to pick it up at the booth between gates 9 and 10 in the area after you pick up your luggage. You can see the booth in the image below.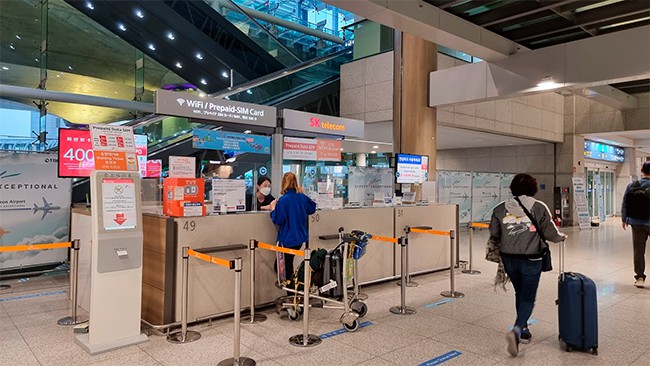 After you've picked up your sim card, it's time to activate and use it.
The Blue Plus sim card has to be activated online, while the Gold just works after putting it in your phone and restarting it. Check the documents they give you for more details.
Do note that your phone cannot be carrier/network locked. Otherwise, you won't be able to activate the sim card. I've heard that some people from the US had this issue, but I didn't hear of people from other countries experiencing this. You might want to contact your data provider or the store where you bought your phone to check if it is.
---
How to get a Korean sim card while in South Korea
If you're already in South Korea and don't have a Korean sim card or the one you had expired, there are luckily ways to get a new one as a non-Korean citizen after arriving in the country.
The service that I personally used to get a sim card while in Seoul was Trazy, which offers many helpful packages and deals in South Korea, all in English. I used this specific deal to buy a sim card while I was in Seoul. The pick-up location was in Myeongdong.
They have several other sim card deals as well with other pick-up locations. If you don't see any location near where you are staying, they also offer parcel service so you can get it delivered anywhere. You can see all their sim card deals here.
It was simple enough to get to the pick-up location, which is a room within an office building. Just head to Myeongdong Station exit 10 and walk to the white building that is located ahead to the left of the stairs. In the images below, you can see the office building as you walk up the stairs from exit 10 and the entrance of the building.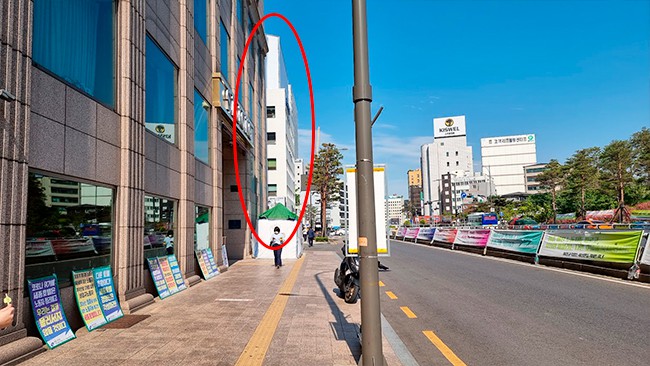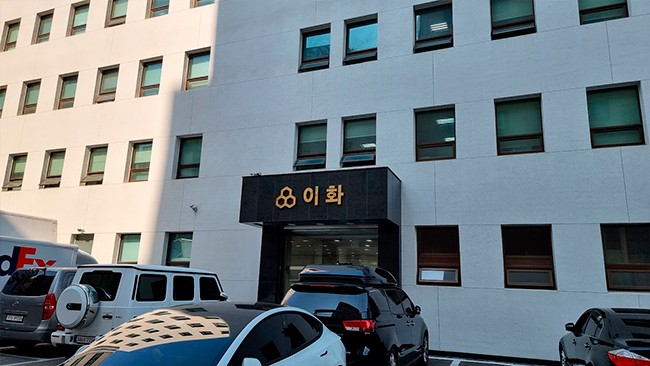 Inside the office building, head to the second floor and find room 201. It's located in front of the elevators.
Here is what the entrance to the sim card pick-up location looks like.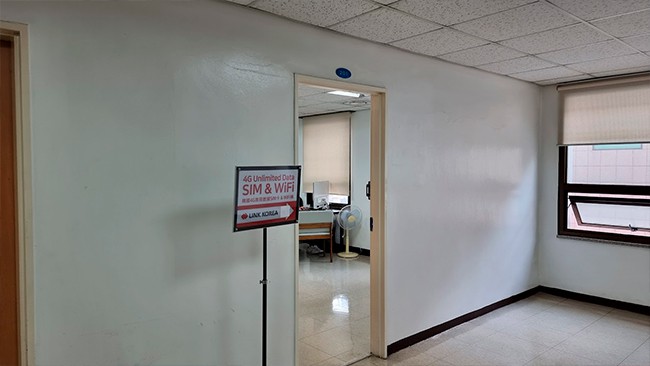 When you get to the pick-up location, an employee will give have you fill out some information, check your passport, so remember to bring that, and then give you your sim card. They also put it in my phone for me and ensured it worked before I left.
Going to a regular phone or telecom store probably won't bring you any luck, as they primarily deal with Korean citizens who have their sim card linked to their government ID.
Most shops, therefore, cannot sell you a Korean sim card if you are not a Korean citizen or don't have your Alien Registration Card + a Korean bank account yet. If you do decide to go to one, you'll probably have the most luck in stores around large universities. You can also ask the employees if they know where you can get one.
---
That's how to get a Korean sim card for your time in South Korea!
Have any input or suggestions for this guide? Let us know in the comment section below.