When you visit Seoul, Busan, or another city in South Korea, experiencing their amazing food should be a top priority.
If you're used to using Google or Yelp to find restaurants, you'll quickly notice that they aren't the best for finding restaurants in South Korea.
Recommended Read: How To Get to Nami Island From Seoul
The best app to use to find restaurants in South Korea is MangoPlate, which allows you to search for all kinds of restaurants in South Korea based on the type of food, distance, price, rating, etc. You can also use map apps to find restaurants, but MangoPlate usually works better as it provides much more information.
---
Table of contents
---
Best app for finding restaurants in South Korea
Exploring and tasting amazing food in South Korea is one of the highlights for many people visiting the country.
But how do you find great restaurants in South Korea?
Based on my experience, the best app for finding restaurants in South Korea is MangoPlate, a Korean-native restaurant and dining app with English writing.
MangoPlate lists restaurants all over the country, including Seoul, Busan, and Daegu. It is the most widely-used restaurant and dining app in South Korea, so most restaurants are listed in the app. You can also find bars and cafes in the app.
In the app, you can use various filters to find the types of restaurants you are looking to try.
Some of their filters include:
Type of food
Price
Rating
Location
If you don't know what type of food you want, you can also check restaurants based on distance from your current location or overall rating. You can also see all restaurants listed in the app on the map by clicking the map icon in the top-right corner.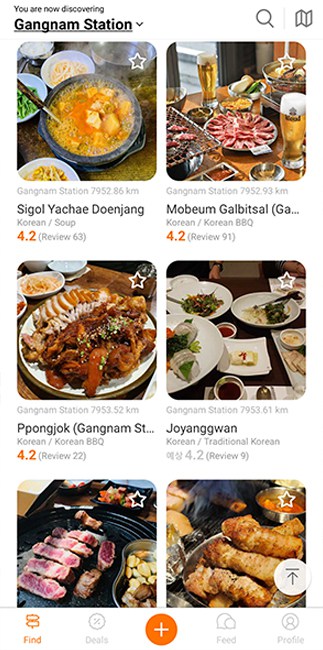 Here are the various restaurant types that you can choose as food types in the filter option:
Korean
Japanese
Chinese
Western
World
Buffet
Cafe
Bar
You can also see what other users have said about a restaurant in the reviews section of a restaurant. If you see a restaurant you want to save for later, you can add it to your Wanna Go list, which you can see on your profile page, accessible in the bottom-right corner.
It is also possible to find restaurants, cafes, and bars on Naver Maps and Kakao Maps, but MangoPlate provides more information about each restaurant and makes it easier to find the types that you are looking for.
Many restaurants in South Korea do not keep their information updated on Google and other platforms than the Korea-native ones, so if you use those, you might find inaccurate information.
I personally experienced going to a restaurant in South Korea we thought was open as it said so on Google, but found that the restaurant was closed for good upon arrival.
Be sure to check out our guide on how to order and pay in restaurants in South Korea here so you know what to do when you get to one.
---
That's the best app to use to find restaurants in South Korea!
Have any input or suggestions for this guide? Let us know in the comment section below.