To get around and explore Seoul to its fullest, you're definitely going to need a map app that can navigate you around the streets and public transportation.
After pulling up your trusty Google Maps, you've probably quickly noticed that the app doesn't work in Seoul or in other parts of South Korea, for the most part at least.
Recommended Read: How to Get a T-money Travel Card in South Korea
When you're in Korea, you have to use one of the navigation apps that are made in Korea, as they are the only ones that work properly in the country.
I recommend using Naver Maps if you're a foreigner, as it offers the most English options. Kakao Maps is also a great navigation app, which is used by most Korean people, but it does have more Korean-only options inside the app.
There are a couple of other navigation apps, including ones only for public transportation, but I was just fine using only Naver Maps and Kakao Maps for the months that I have been in the country.
---
Table of contents
---
What are the best navigation apps to use in South Korea?
When you're out enjoying Seoul, Busan, or another city in South Korea, navigation is essential.
It's a big city, and you need to use public transportation to get around efficiently if you're not using a taxi, and sometimes you need to use various subway lines and buses.
Most people use trusty Google Maps when going anywhere in their home country, but unfortunately, Google Maps doesn't work properly in South Korea because of certain laws in the country.
South Korea has its own answers to map navigation apps – Naver Maps and Kakao Maps being the most popular.
I highly recommend that you acquire one of these when you're in South Korea, if not both, as they're essential to getting around. You can get both on both Google Play and the App Store.
Personally, I prefer Naver Maps to Kakao Maps, as Naver Maps has more English options inside the app, making it easier to use if you're not a Korean speaker. In some situations, it was convenient to have Kakao Maps as well, though, so I recommend getting both.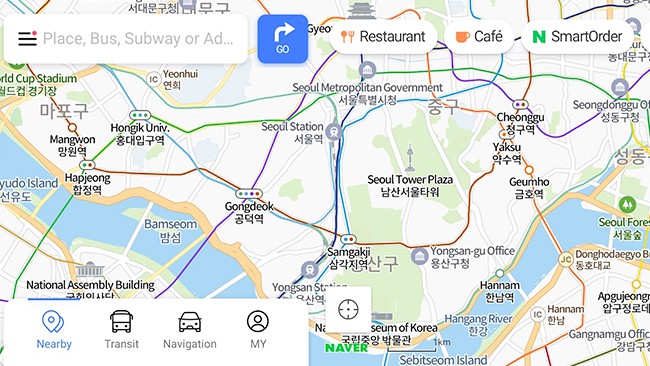 In general, it seems that most foreigners in South Korea prefer using Naver Maps and most Koreans prefer to use Kakao Maps.
Both Naver Maps and Kakao Maps work like other navigation apps, you type in your destination and starting location, and the app tells you the fastest and most convenient way to reach it. The apps include both public transportation (subway and bus), driving, biking, and walking.
One thing to note about using Naver Maps is that you have to write the name of destinations that are in English and are normally written in two or more words in one instead. For example, if you wish to search for "Burger King", you have to search for "BurgerKing" instead. Otherwise, it won't show up.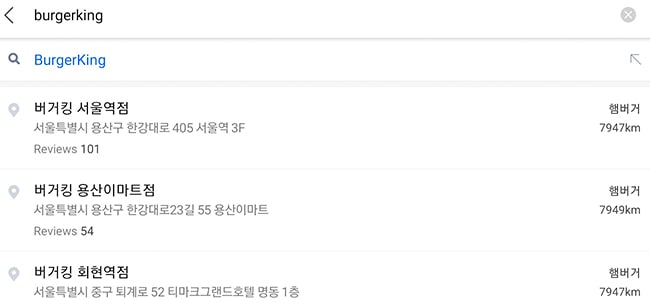 On Kakao Maps, you can search for destinations written in English as normally.
Another thing to note above using navigation apps in South Korea is that some places aren't listed on both Naver Maps and Kakao Maps, only one. Therefore, if you are looking for a specific place, it can be a great idea to search for it on both apps if you can't find it on one.
If you still can't find a specific location you're looking for, try to write it in its Korean spelling. That usually works. If you're unfamiliar with Korean writing, try to find their name spelled in Korean somewhere on the internet and copy it into Naver Maps or Kakao Maps.
---
Those are the best map apps to use while you're in South Korea!
Have any input or suggestions for this guide? Let us know in the comment section below.