Whether you're in Seoul, Busan, or another city in South Korea, public transport will be your friend for the duration of your stay.
Public transportation works great in South Korea, which means you can get around wherever you want, only using public transportation methods.
Recommended Read: How to Get Cash in South Korea With a Foreign Card
In this guide, I explain how each of the different public transportation methods works in South Korea – bus, subway, and taxi, as well as some tips you need to know before you start using them.
---
Table of contents
---
How does the public transportation system work in South Korea?
South Korea has a vast public transport system that allows you to go just about anywhere in a reasonable amount of time. It is usually the easiest way to get around in South Korea.
In larger cities like Seoul and Busan, public transportation is so convenient that most residents use it to commute daily instead of driving a car themselves.
Public transportation in South Korea is also quite cheap compared to many western countries, so you might be surprised how little you're paying for long journeys.
While the public transportation system is vast and convenient, it can be a bit overwhelming the first time you're using it. So, here is a complete guide on how to use each part of it.
Getting a T-money Card
Before you go take public transportation in South Korea, you should get a T-money card.
The T-money card is the travel card for public transportation in South Korea and can be used on the subway, buses, and taxis.
You can get a T-money card at a local convenience store or at T-money card machines inside subway stations.
For the subway, you scan your T-money card at the designated scanning gates before you reach the subways and scan it again right before you leave the station at your final station. You do not scan it again when transferring.
In buses, you scan your card after entering the bus and again right before you get off.
App to use for public transport
There are dedicated apps in South Korea only for finding subway journeys or bus schedules, but by far, the easiest option is to simply use either Naver Maps or Kakao Maps.
Naver Maps and Kakao Maps are the most-used navigation apps for South Korea, and they allow you to find the route between any two locations, taking both the subway, bus, and walking into consideration.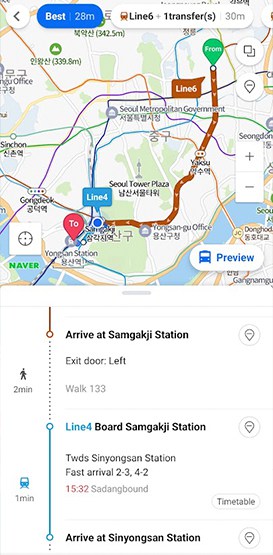 With these apps, you can find your way anywhere with just public transportation. I personally used them to find my way around in my combined more than 6 months in the country and never faced any issues.
Subway
The subway, also referred to as the train by some, is the underground subway system, which is going to take you to most places in South Korea.
There are several subway lines represented by their own number and color. Some subway lines are solely underground, while some travel outside in some parts of their route.
You'll find subway stations all over the large cities of South Korea, making them a vital part of most people's commuting needs.
In my experience, you usually only need to take the subway to get to your location, and sometimes, maybe around 10% of the time, you also need to take a bus after taking the subway.
You do, however, often need to change subway lines mid-journey to get to your location.
But worry not. The navigation apps will tell you exactly what station you need to start at and what line you need to take, what station you need to switch at and to what line, as well as what stop to get off at and where to exit.
Here are some tips that will make your time taking the subway in South Korea easier:
To find the direction of the subway line you're taking, look at the arrow pointing toward the next station it'll reach. You can then check in the navigation app what the next station you should reach is in the list of stations in the drop-down menu, and if it matches the one displayed on the subway, you know you have the right direction.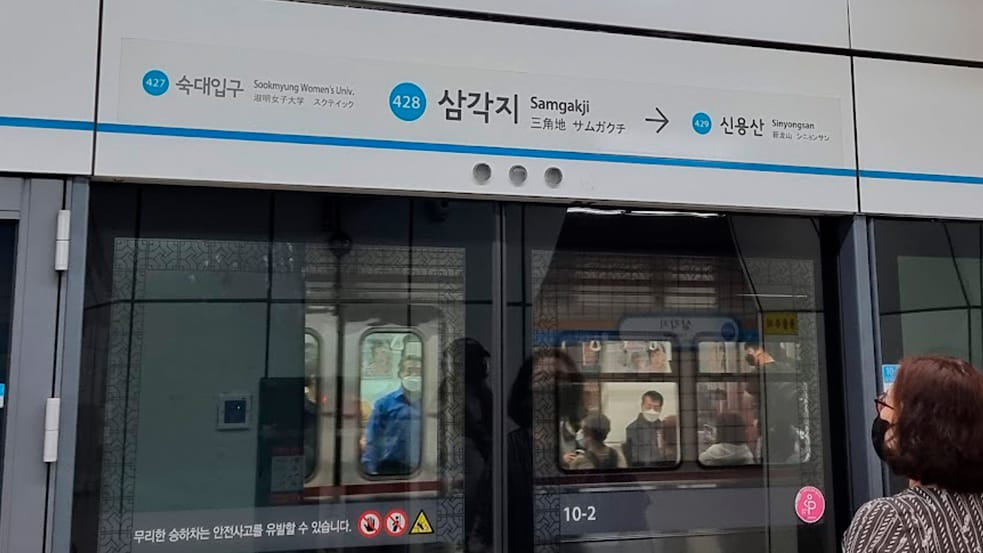 You can also look for the signs that say X-bound, where the X tells you what end station that subway is headed for but checking the next station is usually easier. There are also information boards on the stations next to the subways that show the route for the subway that you can also use to see what direction you need to take.
If you're still not sure whether you've taken the subway in the right direction when you've gotten on, check the navigation map and see if you're following the correct route. If you're going in the opposite direction, you should get off at the next stop and take the other direction.
When you're making a transfer to another subway line mid-journey, look for the arrows and signs in the subway stations pointing in the direction of the next line you need to take.
It can sometimes be difficult to find where another subway line is located in the same station. To find it, look out for the signs and arrows, usually located on the walls or on the ground, which point toward them. Then, just keep following them until you reach the next subway line you need to take.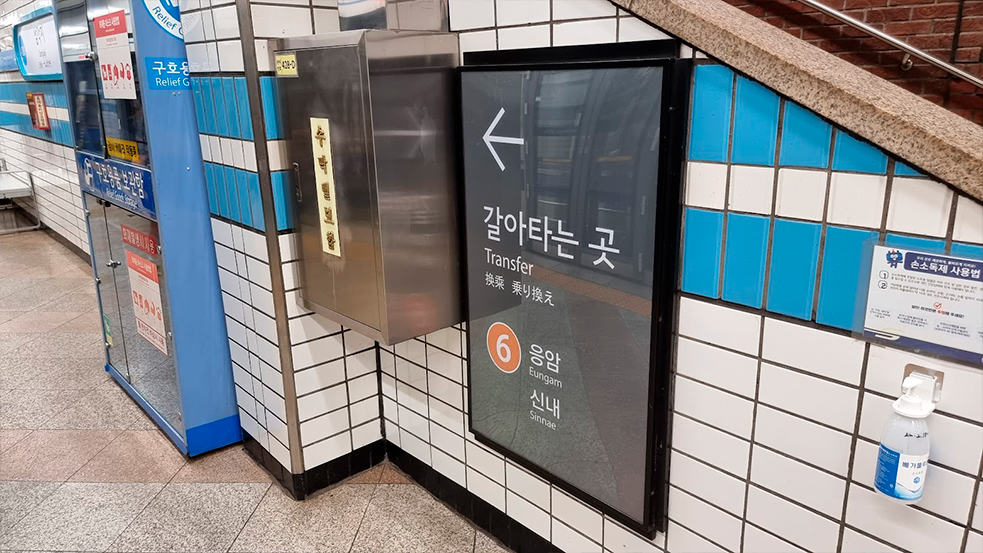 Check what exit you should get out at when you've reached the station you need to get off at.
Many subway stations in Seoul are massive, which means it has several exits/entrances, sometimes more than 10. As these stations are so large, the exits are located quite far from each other, which means you might have to walk a couple of extra minutes to get to your destination if you go out of the wrong exit.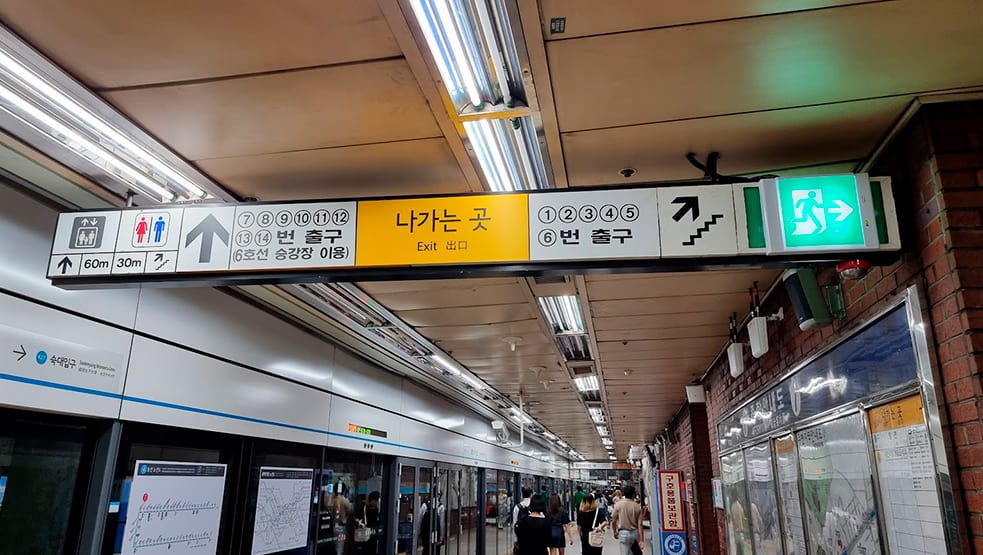 You can see what exit you should take in the navigation apps. The exits are marked inside the subway stations with signs that you can follow.
Bus
There are many bus lines in each city in South Korea. While you often don't need to take them with the subway going to so many places, they are sometimes useful.
If you need to take a bus to reach your destination, the navigation app will show exactly where the bus stop you need to go to is.
Here are some tips that'll make it easier for you to take the bus in South Korea.
Look for the bus number displayed on the bus and match it to the one listed in your maps app.
To make sure you're taking the correct bus, be sure to look in the app for what number the bus you need to take has.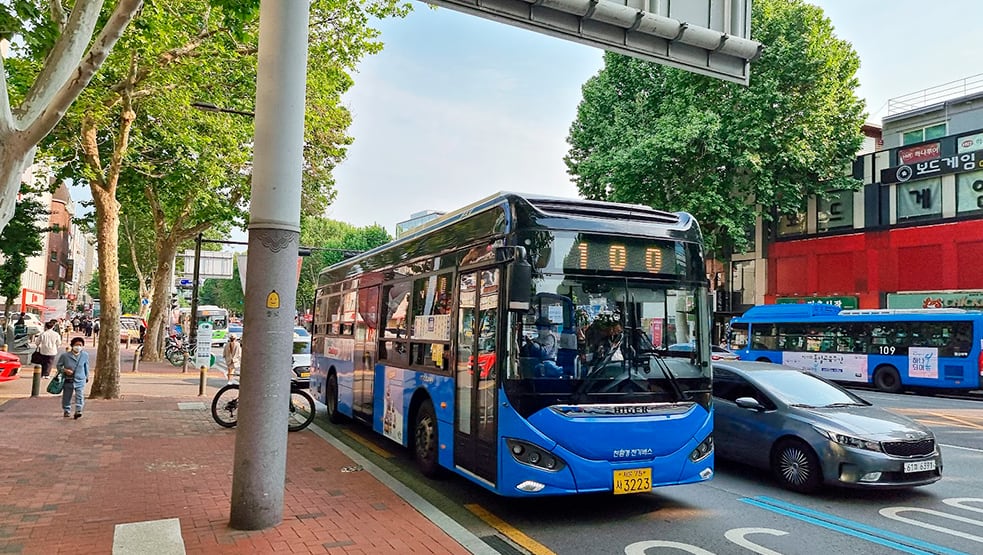 There are often several buses coming to the same stop frequently, but all of them have their number clearly displayed on the front of them, so you know which one is which.
Check out the real-time countdown to know when your bus is coming.
In South Korea, you can see in real-time how long till your bus arrives at the bus stop you need to go to. You can use this information to make sure you reach the stop in time, so you don't need to wait for the next one.
Follow along on your map apps to see when you need to get off.
While you can see the name of the next stop on a screen in some buses, many only have an announcement of what the next stop is. It might be difficult to recognize the stop that you need to get off at, so it's often easier to just follow along with where you are in the navigation app you're using and then get off when you can see you're reaching your final stop.
Taxi
The taxi can be a convenient option when you don't feel like taking the subway or bus or are in a hurry.
In taxis, you can pay with your T-money card, but you can also pay with cash or your card.
One of the ways that you can get a taxi is to simply make a gesture to a taxi that is empty or walk up to one that is sitting empty on the side of the road. However, there is a much easier and more convenient way to get taxis.
I strongly recommend using the app Kakao T to get taxis in South Korea, as it not only allows you to order a taxi to your current location but also set the destination before you even start the journey, as well as see the estimated price beforehand.
If you don't use the app, you might experience some difficulties with some taxi drivers not being able to understand where you want to go. I did so myself, at least.
Daily start and stop times
You should note that not all public transportation runs all night. The subway stops at around midnight and starts again at around 5:30 am. Sometimes, the stop and start times for the subway are slightly different.
Many bus lines also stop running at night, but there are some special bus lines that keep going all night.
While taxis do not have a dedicated stop time, it can be very difficult to find or get a taxi through Kakao T after midnight, especially Friday and Saturday, as there are so many people wanting to take them.
If you're out till after midnight, your only option is often to take a bus home.
Cost
Public transportation is cheap in South Korea compared to many western countries.
The cost of a subway ride around 30 minutes is only around ₩1,200 (~$1)
The cost of a bus ride is around ₩1,300 – ₩2,000 (~$1.1 – $1.6) for a journey of around 20-30 minutes, depending on the bus line.
The cost of taxi fares is around ₩16,000 (~$12) for a trip that is around 20 minutes, but it is heavily dependent on how long your journey is. Learn more in our guide on taxi prices in South Korea.
---
How do I pay for public transport in Seoul?
The easiest way to pay for public transportation in Seoul is to buy and use a T-money card, which is the public transportation card of South Korea.
It is only possible to purchase a single journey ticket at machines in subway stations or from the bus driver on buses.
If you're taking longer journeys, like from Seoul to Busan on the KTX train, you can buy tickets online.
---
Does South Korea have good public transportation?
Yes, South Korea has excellent public transportation, which is the preferred way to get for most living in large cities like Seoul and Busan.
You can easily get wherever you want while you're staying in South Korea using only public transport.
---
That's how to use public transportation in South Korea!
Have any input or suggestions for this guide? Let us know in the comment section.