If you're visiting South Korea, you'll quickly notice that the app that you probably use for directions in your home country, Google Maps, doesn't work here.
The reason why Google Maps doesn't work in South Korea is that Google doesn't have access to the geographical data of South Korea, as the government doesn't allow the data to be stored on foreign servers or by foreign companies.
Recommended Read: Where to Buy Bedding in South Korea
When you try to use Google Maps in South Korea, you can only see some of the public transportation between locations, but not any directions for driving or walking.
---
Table of contents
---
Why doesn't Google Maps work in South Korea?
Google Maps is the most used navigation app around the world and is probably the one you use in your home country, too.
However, as you try to find directions for something in Seoul, Busan, or wherever you are visiting in South Korea, you'll notice that Google Maps doesn't quite work as usual.
That's because Google doesn't have access to the geographical data of South Korea. Google is a foreign company and stores its data on foreign servers, and thus cannot offer its navigation services in South Korea as per the government's orders.
The only thing that sometimes works on Google Maps is public transportation navigation, but it is not reliable.
Instead of using Google Maps, South Korea has its own navigation apps, Naver Maps and Kakao Maps being the two most used ones. Naver Maps is the recommended one for foreigners, as it offers more English options in its app.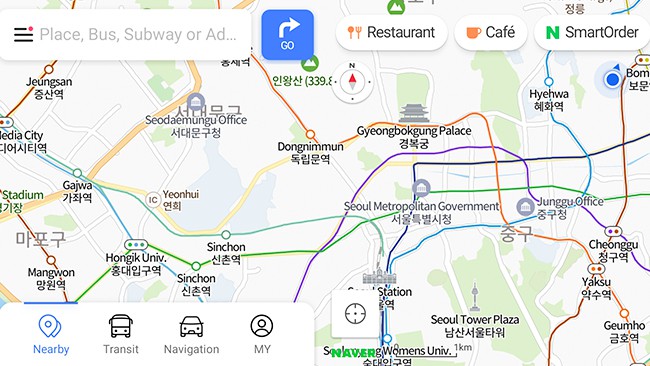 If you like the way that Google Maps shows the direction you are facing, you can use it to walk around by finding the location of where you're going. You just can't start navigation for that location.
As Google Maps isn't really used in South Korea, many restaurants and businesses don't update their information on Google, and thus Google Maps, so you cannot always rely on what you find on there.
If you usually use Google Maps to find restaurants or stores, I recommend that you start getting used to Naver Maps or Kakao Maps instead, as you might end up going somewhere that has been closed for a while. That's happened to me once or twice, at least.
---
That's all you need to know about using Google Maps in South Korea!
Have any input or questions? Let us know in the comment section below.