While you can pay by card almost everywhere in Seoul, Busan, or whatever city you are going to visit in South Korea, cash is still widely used in the country, so it's convenient to have at least some on you at all times.
Furthermore, some people cannot use their own cards for payment in South Korea, in which case they have no choice but to pay with cash instead.
Recommended Read: Where Can You Buy Cheap Clothes in Seoul?
You can pull out cash in South Korea with a foreign card by visiting any local bank branch and using the Global ATMs. Only the ATMs that say "Global" on them accept non-Korean cards, so make sure to use those. To find a local bank branch, you can use either Naver or Kakao Maps.
---
Table of contents
---
How to withdraw cash in South Korea with a foreign card
Having Korean won in cash on you is often convenient when you go around in South Korea, as cash is still widely used.
Especially in traditional markets, smaller street shops, etc., cash can be convenient for quick payments. You might also have experienced that your payment card from back home doesn't work in South Korea, and then you have no choice but to use cash.
To withdraw cash in South Korea, you need to use one of the ATMs labeled as "Global ATM" at a local bank branch. There are tons of bank branches all over the major cities, and almost all of them have Global ATMs as well as regular ATMs.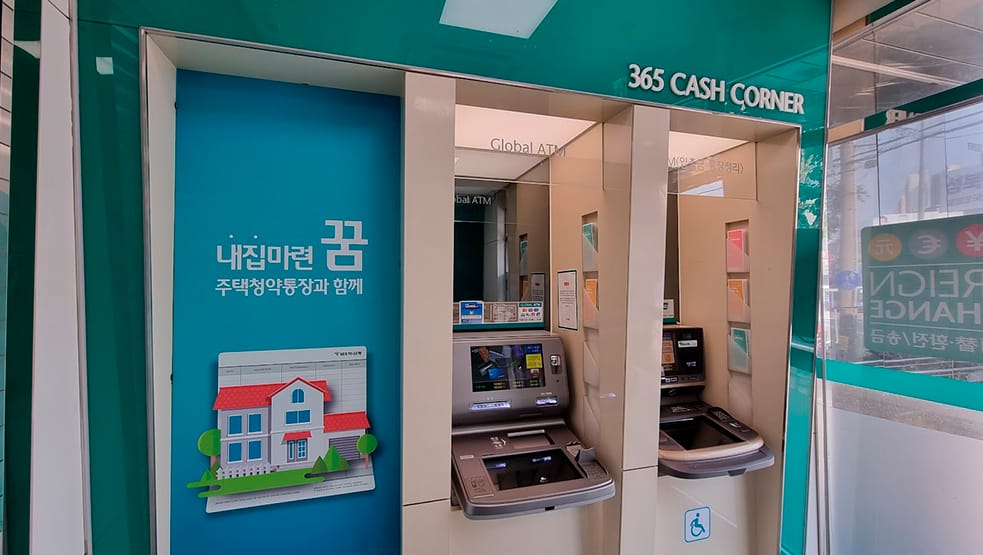 The easiest way to quickly find a local bank branch is to use either Naver Maps or Kakao Maps and click the "Bank" button located below the search bar in Naver Maps or search for "Bank" yourself in Kakao Maps.
Many of these "bank branches" are small buildings whose main purpose is to allow people to use their ATMs.
The ATMs that are not labeled as Global ATMs only work with Korean cards, so you cannot use them unless you open a Korean bank account.
But even with a Korean bank account, you'll probably still want to use the Global ATM to pull and cash with your overseas card and then deposit that into your domestic card. The Global ATM works with Korean cards as well.
The actual steps to withdraw cash at the Global ATM are straightforward. You first select English on the display, then select the type of card (overseas card), select cash withdrawal, and then select the amount.
You can also select the combination of notes that you want for the total withdrawal amount chosen. If you do not select any specific notes yourself, it will give you the lowest number of notes possible. So, if you choose to withdraw ₩300,000, you'll receive 6 ₩50,000 notes, for example.
---
That's how to withdraw cash in South Korea with a foreign card!
Have any input or suggestions for this guide? Let us know in the comment section below.