Have you booked a trip to Seoul and cannot wait to go around and explore the city but are not sure what the best ways to get around are?
Seoul is a large city with millions of residents, so there are definitely some methods that generally are more convenient to get around than others.
Recommended Read: How to Find Your Address in South Korea
When you visit Seoul, the best way to get around is by using the extensive subway system, buses, and walking. The city isn't built for biking, so many places do not allow for safe biking, and taking a taxi or driving a car often takes just as long as public transport and is much more expensive.
Check out our complete public transport guide for South Korea here.
---
Table of contents
---
What are the best ways to get around in Seoul?
Seoul is a massive city, and there is something worth seeing and experiencing in every part of it, which means you need to travel around a bit.
When I visited the country, I was first surprised by how long it took to get somewhere else in the city, but you quickly get used to it. And the reason why it can take around 1 hour to get to another part of the city is simply that it is so large.
Here are, in my experience, the best ways to get around in Seoul:
With these three, you can get anywhere in the city without any issues, and transportation will be both cheap and relatively fast.
The subway system in Seoul is extensive, with many subway lines that go all over the city. In my experience, you could go pretty much anywhere you needed to go, only with the subway and then a bit of walking.
When you needed to travel far, you often needed to transfer to another subway line during your route.
Buses also run all over Seoul, but many prefer to take the subway if possible. Sometimes, though, the only route available to a specific location, usually those towards the edges of the city, requires you to take a bus after taking the subway.
Something great about buses in Seoul is that you can see in real-time on your navigation app when it's going to arrive at the bus stop. Some bus lines run all night, which the subway does not.
Walking in Seoul is often a better way to get around than other transportation options. Not only does it often take the same time to walk somewhere if it's not that far from where you currently are, but you also get to see more of the city.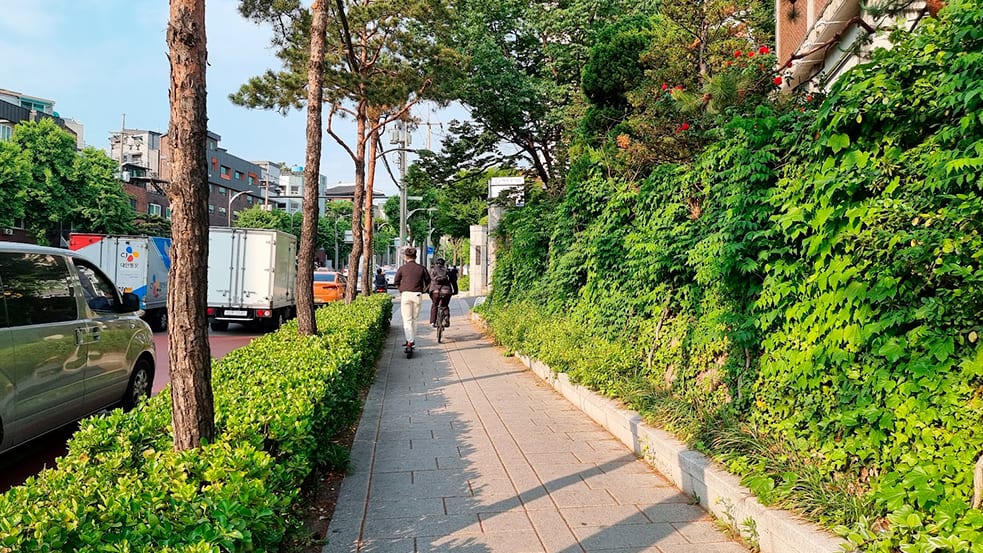 Some of the other common transportation methods like taking taxis and renting a car are not the best for Seoul, in my opinion.
As there are so many people in the city, there is often a lot of traffic, making taxis and car rides take almost as long as public transportation. When there is no traffic and if you need to go outside the city, taking a taxi is definitely faster than public transportation.
Taxis and renting a car are, however, much more expensive than taking public transportation. Sometimes, it is convenient to take a taxi, though. But renting a car is probably not worth it if you're only staying in Seoul.
Biking is, unfortunately, not the best mode of transportation in Seoul currently, as only some parts of the city are built for biking. If you wish to bike around, there are some great places dedicated to biking, but you cannot safely bike around anywhere in Seoul.
Seoul does have plans to make the city bike-friendly in the future, but for now, I recommend sticking to the subway, buses, and walking.
---
Those are the best ways to get around in Seoul, South Korea!
Have any input or suggestions for this guide? Let us know in the comment section below.