Most things in South Korea are done in their own way, and it's no different with clothes. There are tons of clothing stores around the large cities, and many of them bring styles that you do not see anywhere else in the world.
While there are plenty of expensive stores and high-end brands in South Korea, there are also plenty of shops and markets that sell cheap clothes with lots to choose from.
Recommended Read: Where Can You Throw Away Trash in South Korea on the Go?
Some of the places where you can purchase the cheapest clothes in Seoul are small non-chain clothing stores around Hongdae, Ewha, and Myeongdong, underground malls at subway stations, flea markets, and street markets.
---
Table of contents
---
Places to buy cheap clothes in Seoul
Are you in the mood for a shopping spree in Seoul but don't want to break the bank? Here are some places where you can buy cheap clothing, usually costing less than ₩10,000 ($7) per piece and sometimes less than ₩5,000 ($3.5) per piece.
Smaller non-chain stores around the shopping area of Hongdae, Ewha, and Myeongdong
Both Hongdae (홍대), Ewha (이화), and Myeongdong (명동) are known to be a shopper's dream. In these neighborhoods, you'll find tons of clothing shops, ranging from well-known brands to small non-chain shops.
The smaller non-chain shops are the ones that usually sell the cheapest clothes, and these are also the ones that usually have the most unique items that you don't find anywhere else.
Recommended Read: Where to buy electronics in Seoul
By just walking around the shopping area of Hongdae, Ewha, and Myeongdong, you'll quickly notice several of these smaller clothing stores.
If a clothing store has its entrance at the street level but goes directly into the basement floor, you'll often find cheap clothes there.
Many of the stores that sell cheap clothes also display some of their clothing directly on the street with price tags, so you can easily browse while you walk by.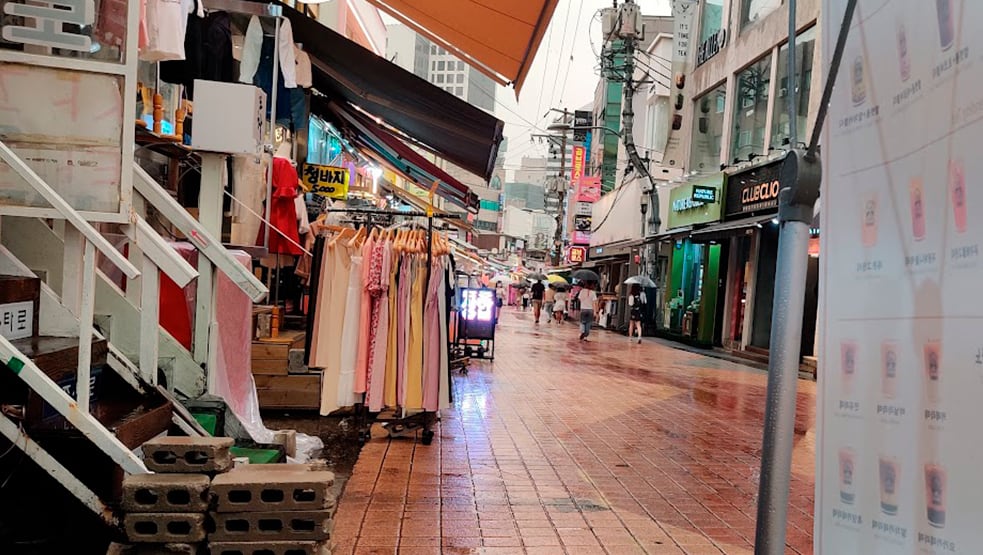 You can reach Hongdae by taking the subway to Hongik University Station, Ewha by taking the subway to Ewha Woman's University Station, and Myeongdong by taking the subway to Myeongdong Station. The shopping area in both of these neighborhoods is located a few minutes walk time from the station.
If you're unsure where the shopping area of these three neighborhoods are, you can follow these addresses to get to them:
Hongdae shopping street: 서울 마포구 어울마당로 94 / 94 Eoulmadang-ro Mapo-gu, Seoul
Ewha shopping street: 서울 서대문구 이화여대3길 / Ewhayeodae 3-gil Seodaemun-gu, Seoul
Myeongdong shopping street: 서울 중구 명동8길 / Myeongdong 8-gil Jung-gu, Seoul
When you've reached any of the locations above, you'll see the shopping streets all around you. The specific addresses are just random locations within the shopping areas.
Underground shopping malls
In some of the subway stations around Seoul, you'll notice that there are entire markets.
A variety of items are sold in these markets, and clothes are often one of those things. In these underground markets, you can often find clothes for a bargain.
Far from all subway stations have a market or anyone selling clothes, but some of the bigger ones do.
The most popular underground mall is the one located in the Gangnam (강남) subway station. There, you'll find tons of small shops selling clothes for a small price.
Flea markets
If you're after the lowest price and perhaps also the most unique pieces that you're not gonna see anywhere else, flea markets are a great option.
There are several flea markets around Seoul, but the one in Dongmyo (동묘), called Dongmyo Flea Market, has the largest selection of clothes of the bunch.
At the Dongmyo Flea Market, you'll find both clothing shops selling new clothes for a cheap price, as well as stalls selling second-hand vintage clothes for an even smaller amount.
As flea markets do not only sell clothes, you'll see all kinds of items for sale, which means you'll also have a smaller selection of clothes to browse at flea markets compared to shopping areas.
Street markets
There are still many things that are sold directly on the street in Seoul, like street food, small accessories, but also clothes.
While walking around the city, you'll sometimes see small independent stands selling a variety of clothes directly on the street. These stalls have some of the cheapest clothes you'll find in the city, but they are usually also generic pieces that you can find at many other stalls like it.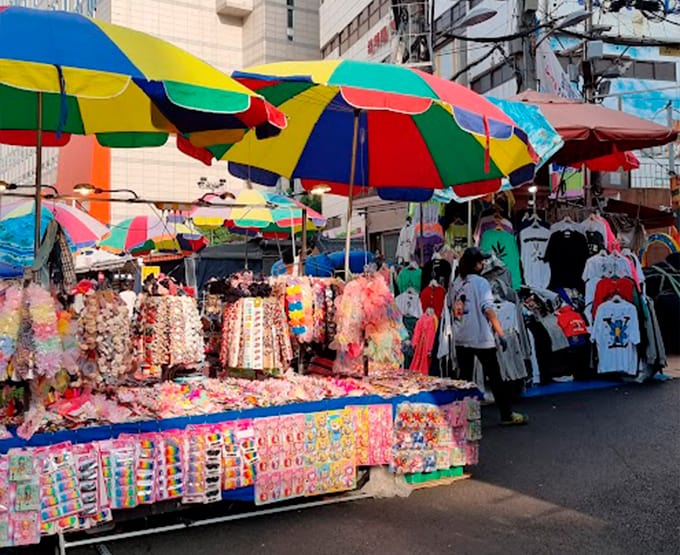 Sometimes, however, you can find unique pieces that suit you at these stalls, so they might be worth a look.
While you can find these stalls in several areas of Seoul, some of the areas that have the most stalls with clothes include Namdaemun Market (남대문시장), Dongdaemun (동대문), Dongmyo (동묘), and Gwangjang (광장).
Malls
While the prices in malls are higher than those in the above-listed locations, you can still find some great deals in large malls in Seoul.
If you're after clothes from large brands that you know or higher-quality clothes, then malls might also be a better choice for you.
Malls in Korea also have well-known brand stores like Uniqlo, H&M, Zara, and 8 Seconds.
Some of the largest malls in Seoul, where you'll find the largest selection of clothing stores, are:
LOTTE Department Store (Jamsil)
I'Park Mall (Yongsan)
Good Morning City (Dongdaemun)
Doota Mall (Dongdaemun)
Starfield COEX Mall (Gangnam)
In these malls, you'll also find many restaurants and smaller food stalls, so you can easily spend hours in these places.
---
That's where you can buy cheap clothes in Seoul, South Korea!
Have any input or suggestions for this guide? Let us know in the comment section below.