Many people prefer riding a bike to work, school, etc., instead of taking public transportation.
So, if you're planning to stay in Seoul for a longer period of time, you might wonder whether you'll be able to bike there as well.
Recommended Read: How To Get From Incheon Airport to Seoul
The short answer is that, yes, there are designated areas in Seoul where you can safely ride your bike along various scenery on bike-only lanes. However, if you're planning to use your bike as a mode of transportation, it'll likely be difficult to find a safe route from your starting point to your destination, where you don't have to bike alongside cars, as most of the city isn't built for biking.
---
Table of contents
---
Is it safe to bike around in Seoul?
If biking is part of your daily routine and you are going to be staying in Seoul for an extended period of time, you might be wondering if you can do the same there.
In terms of using biking as a form of transportation from your accommodation to school, work, etc., it's going to be difficult to bike around safely in most areas of Seoul, as most areas are not built with biking in mind. Only some roads and areas have designated lanes for bikes to ride. Therefore, chances are that there isn't a great cycling road from your accommodation to your destination without having to ride next to cars.
You might, however, be able to find a longer alternative route from your accommodation to your destination, where you can use the dedicated bike lanes/routes.
I recommend using either one of the Korean navigation apps to see what they recommend as the "best" biking route from your starting point to your destination.
If you wish to bike around for a fun evening while enjoying some of the scenery in Seoul, there are several safe, bike-friendly options to choose from. Specifically, around the Cheonggyecheon stream and other newly renovated/built areas of Seoul, you'll find areas/routes for bikes only.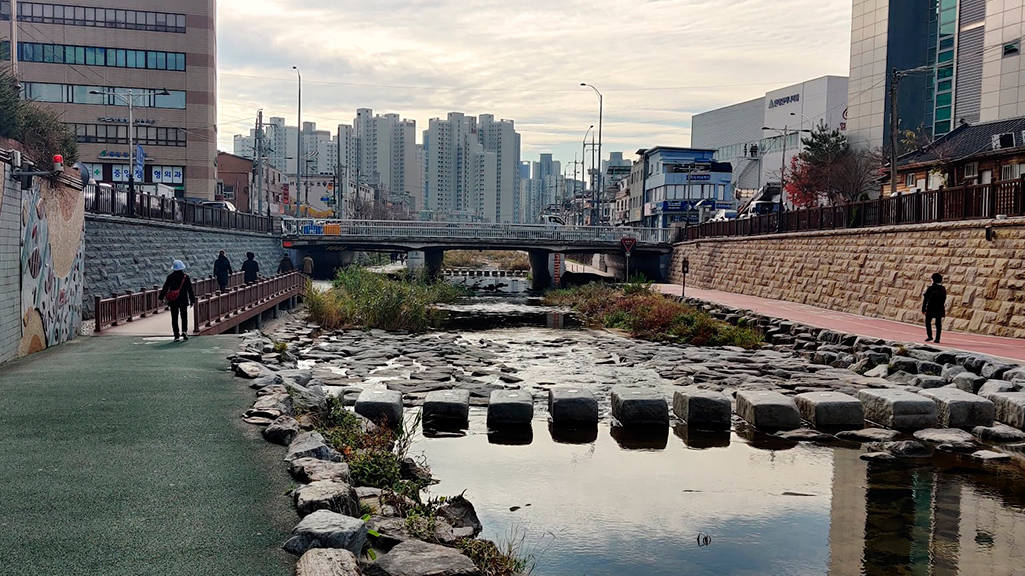 Some of the bridges that cross the Han River and alongside the whole of the Hangang river they have bike lanes. Most of them are on the east side of the river, and some go through parks.
There are rental bikes available for you to rent at several locations in Seoul. They are usually located next to popular biking routes/areas and stations. You can easily recognize the rental bikes, which are put out by the Seoul City Government, as they are completely white with green wheels. You'll find them parked in designated bicycle stands.
The Seoul City Government is planning to make Seoul a more bike-friendly city in the future and has already added more bike routes in recent years. It is still far from a city where you can easily bike anywhere, though.
They do, however, have plans to build a large bike-road network so that you can bike from anywhere in Seoul to any destination in Seoul within an hour by 2030.
---
That's all you need to know about whether or not you can bike around in Seoul!
Have any input or suggestions for this guide? Let us know in the comment section below.