Nami Island is a beautiful and exciting island to visit and explore for a 1-day excursion away from Seoul.
The island features various exotic animals, some in enclosures and others roaming freely on the island. It has beautiful nature, great food, and other things to see.
Recommended Read: How to Order and Pay in Restaurants in South Korea
To get from Seoul to Nami Island, take the subway and ITX train to Gapyeong Station, then walk or take a taxi to the Nami Island port, and take the ferry to Nami Island. Depending on where you're located in Seoul, the journey will take between 1 and 2 hours.
---
Table of contents
---
How to get to Nami Island from Seoul
If you're planning a 1-day trip outside of Seoul, Nami Island is a great choice.
On Nami Island, you can enjoy beautiful nature, various animals, great food, and more.
Nami Island is a bit far away from Seoul, so I recommend not leaving too late so you have time to enjoy the island fully. The easiest way to get there is by public transportation.
Here is how to get to Nami Island from Seoul:
Take the subway and ITX train from Seoul to Gapyeong (가평) station.
You can use Kakao Maps or Naver Maps to find the best journey from where you live. You can use your t-money card for the subway until you get to the ITX train. But you will need to purchase a separate ticket for the ITX train online.
It is possible to order ITX tickets online and in apps, but it can be difficult as a foreigner. Therefore, you might want to either get help from a Korean if you know any or try to use the KORAIL ticket machines at the stations where the ITX train departures.
Get to the Nami Island port (called Namisum Gapyeong Ferry Dock on Kakao Maps) by either walking from Gapyeong station or taking a taxi.
The walk from Gapyeong station to the Nami Island port is around 30 minutes, so if you're not used to walking, I recommend taking a taxi. When I went there, we took a taxi from the station to the port and walked back to the station from the port at the end of the day while the sun was setting.
Purchase a ferry round-trip ticket for Nami Island at the Nami Island port.
You can purchase the ferry ticket at the port. The building has a sign that says "Ticket Office". If you want to, you can also purchase a zip-line ticket, which takes you with a zip-line to another Island and then to Nami Island with a boat or directly to Nami Island. Zip-line tickets can be purchased in the Skyline Zipwire building, which is also located at the port.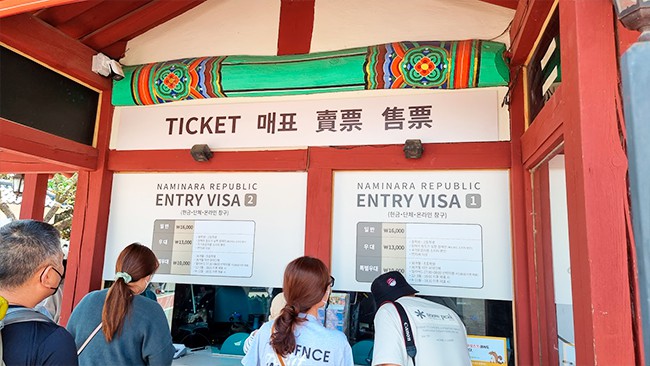 4. Once you have the ticket for the ferry or zip-line, you're ready to go to Nami Island!
Queue up for the ferry or zip-line with your ticket and wait for departure. The sailing time from Nami Island port to Nami Island is only a few minutes, and the zip-line is less than that.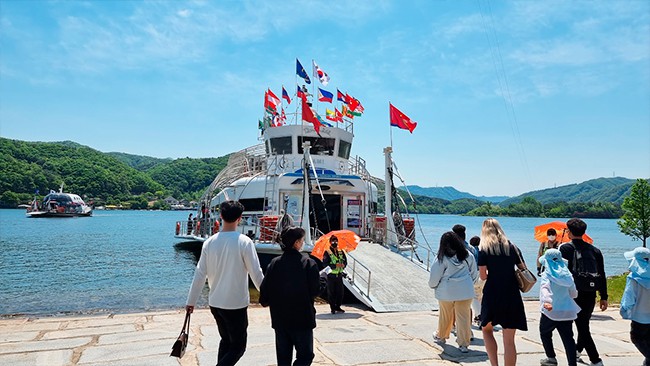 To get back to Seoul after your trip to Nami Island, you can use the exact same route.
Nami Island is big enough for a full-day trip, but you can experience most of what it has to offer in a couple of hours.
When I went there, we left around 9 in the morning and were back at around 10 at night. We had lunch on the island and dinner around Gapyeong after being on the island for around 5-6 hours.
---
That's how to get to Nami Island from Seoul!
Have any input or suggestions for this guide? Let us know in the comment section below.